Class 1
Here is some writing inspired by the visit of Steve Smallman (author and illustrator):
The Bear by Princess
In the woods there lived a bear.  He walked in the woods and he saw a fox and a bird, but they ran away.  Bear felt sad and he cried.  A hedgehog rolled up and he said, "What's the matter?"  Bear said, "All the animals thought I was scary."
The hedgehog told all the other animals that Bear wasn't scary, so all the animals came to Bear's home, because he is not scary, he is friendly.  So all the animals came to play with the bear and then they had a party with their favourite party music.
The Bear by Youssef 
Bear lived in the wood. He went for a walk and he saw a spider. The spider ran away.  Bear cried.  Hedgehog came along and asked what the matter was. Bear told hedgehog he had no friends.  Hedgehog said he would be his friend and Bear felt better.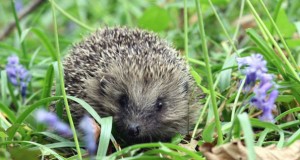 Class 2
A new school year! A new page on the Blog! 🙂
As part of their 'Minibeasts' topic in Science, the children have been reading 'Superworm' by Julia Donaldson. They went on a 'Worm Hunt' in the school grounds.
Finding the worms became a team challenge. In class, they discussed different ways to bring the worms to the surface – digging carefully, adding water, jumping up and down and pouring soapy water. One group collected 17 worms! 🙂
Back in the classroom, the children wrote a Science report of their worm adventure. Here are two of the reports –
Isobel – What did we do? We put washing up liquid and water in a bottle. We shook it up until its was bubbly. We poured it on the soil. What did we find out? We saw one or two worms come to the surface because they need to breathe.
Ollie – What did we do? Our team went on the field to look for worms. We poured soapy water onto the ground and stamped our feet. We hoped the worms would pop up. What did we find out? The worms pop up when they have oxygen to breathe in the soil.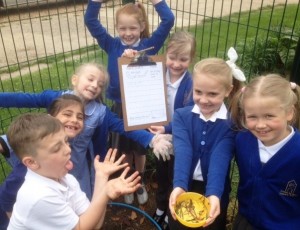 As part of their 'Minibeasts' topic in English, the children have written some adventure stories about 'The Ugly Bug Ball'.

The Ladybird at the Ugly Bug Ball by Ella
A ladybird swooped down to the Ugly Bug Ball in a pretty cave, full of diamonds, glitter and bugs. He danced and sang a song. He danced poshly and he sang poshly. He was so tried that he sat down and relaxed with a can of bug drink. Hic! Hic!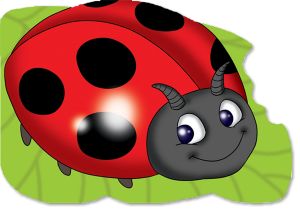 The Magic Key by Chloe W
When one of the bugs was dancing at the Ugly Bug Ball, he found a key on the floor. Then the key began to glow. The bug said it was a magic key. In the next minute, the bug was not at the ball. He was in a forest and had escaped. The magic key began to glow. Then it was time to return to the Ugly Bug Ball, but it was not at the place it was earlier. It was in the desert where it was so hot!
The Ugly Bug Ball by Alfie
One day a ladybird went to the Ugly Bug Ball in the deep, dark forest. The lady bird saw so many other bugs. He saw a ladybird queen. He asked her to dance. After all the dancing, they decided to go back to their houses.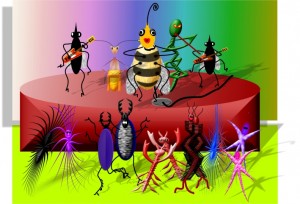 In the first part of the Summer Term, Class 2 have been learning about 'Minibeasts'. All of the children have written some lovely poems, which used a range of verbs and adverbs –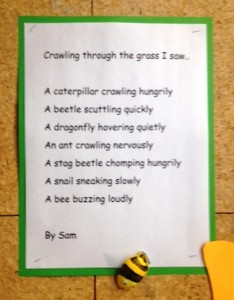 Class 2 used the iPads and 'Scratch Jr' to use coding to create an adventure story with a beginning, middle and end.
'Madness in the sea' by Sam F and Emma M
Once upon a time there was a lonely baby and he wanted to have some friends. He heard a rumbling sound in the sea.
The baby jumped out of his skin and jumped into the water. He swam and swam until he found lots of strange objects like tornadoes and a sea horse.
A scuba diver said to the baby, "Hi Baby!" The baby was caught up in the tornado and shouted, "Arrrrrrrrrrrrrrrrrrrrrrrrrrrrrrrrrr!"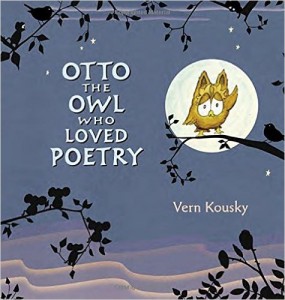 Otto the Owl is lost! By Connor (Y2)
Otto the Owl ran away. He ran as fast as he could. He heard a movement. He recited one of his poems, but sadly the fox ate him.
From my bedroom in Egypt by Reece D
Dear Teacher
I might be late for school because I am lost in a pyramid. Now I've found some ancient scrolls and figured out how to read them. I got chased by some mosquitoes and got bitten.
From Reece D
From my bedroom in the woods
Dear Teacher
I might be a bit late for school. I was lost in the woods. I saw some owls on a tree and I was scared of the owls. I was looking for some treasure and then I found it.
From Bayleigh
Class 3
WOW! Look how our writing is improving! 
Poppie Stratton
Silently the moon fell asleep in the night sky's arms.
Jacob Lowe
When nightfall came the stars tucked the sun into his bed.
Ruby Stanford
The old park bench stood anxiously as the last people stepped away.
Daniel Appleby
The bright and golden daffodil bowed down to me as if I was a king.
Sophie Pleasants
The moon skipped through the night sky to visit the stars.
Betsy Bidwell
The tulip nodded as the watering can cried softly on his head.
Poppy Crawford
Sadly, in the dark night, dancing through the trees, a single leaf fell.
Here are some Creature poems, which have been written after the visit of illustrator and author, Steve Smallman – look for the alliteration!
'Coag' by Charlotte Towler
Slowly, slithering, silently, scaring humans with camouflage.
Ghastly, ghoulish, grinning Coag.
Silly, slimy, scaly Coag.
Hideously, horrible, hands catching
Cold fish and gold fish.
Tough, terrible, terrifying Coag
Catching catfish,
Using furious, fantastic fangs to trap careless humans.
'Throtooth the Friendly' by Kayleigh Watson
Sneaky, slimy, smelly Throtooth slithered through the night,
Through the trees he's lurking, while working.
Slithering, slipping through the scary night towards the light.
He's big, bad, brutal, wide, weird, wild,
He looks fierce and ferocious but is very mild.
When I saw him, I was scared,
But, he gave a grin
And smiled!
The Shop by Mark Smith  
I walked in and it hit me, Wow, that smell! Chocolate. Tall, silver shelves full of different foods like, chocolate, crisps, bread and donuts. All those things you like to chomp on and gobble up.
The sound, it was awful, it was like elephants stomping about. There were babies crying, kids saying 'I want this, I want that.' Mums and dads telling their kids off for hurting their sisters.
I felt like I was trapped, nowhere to go, everyone shouting and running at the same time. And all the time I was staring at those mouth-watering foods.
A Roman Senses poem by Callum Ping – C3
My name is Caius Volcaius Atticus.
I see the Celts racing towards me noisily, the Roman army standing united and the rusty handle of my trusted shield.
I hear my side chattering like mad, Celtic boots stomping away and the howling wind in my ears.
I smell stinking mud and the delicious food on my plate.
I taste the salty sea water and the sweet food.
I feel animal fur and hair and I touch my shield to defend myself.
I march noisily
I sleep soundly
I chomp loudly.
'100 Word Challenge'
… as I joined the queue … by Ruby
Bravely, as I joined the queue to get on the London Eye, I was nervous. I knew I was going to see Big Ben, lots of shops and go round in a circle. But I had a funny feeling that I might get stuck at the top for hours. As I got closer to the entrance, I began to shiver with scaredness. There were lots of spaces to move forward but I went very slowly. I had goose bumps all over. I entered the cabin and, as we moved, I felt …………
Class 4
Steve Smallman, the author and illustrator, visited and some children were inspired to write poems related to their Science topic on 'The Solar System'
'The Solar System' by Charlie C (Extract)
Have you ever wondered
What it is like
To be a planet,
Suspended high in the sky.
I am the sun,
This is what I see,
All the planets,
That orbit around me.
First, there is Mercury,
Who's boring and dull,
He's covered in mountains
And rocky all around.
He's got a hot temper,
And close to me,
I do like him,
But he's very grumpy!
'Infinity and Beyond' by a Y6 girl
I float so high,
I seem so far but yet so close.
I am so small to you, but if you know the real me,
You would know how important I am.
The sun is my partner, but we are so far.
I feel so alone in this galaxy.
I call my home planets,
But they never seem to say hello.
I look down up your head,
A tear in my rock eye,
Because I am so alone.
When I come out, no-one notices me,
You are all asleep as I hover over you.
Then I disappear because golden fingers
Are about to embrace the earth.
Then I look out in space, so deep and black.
A tin car passed me
And a lonely astronaut stepped out
Into the embracing dark from his silver prison.
Then a strange spacecraft lands on me,
A little person appears.
Now I have company,
So being THE MOON is not so bad!
Did the Romans send a tweet? We think so –
@Morginus Oh my horse! Augustus is bringing in more people. I really do think our sewage system will be blocked and the baths will be yellow! #wee #pooh # sewage
@JC123 I'm a fortune teller telling you what's going to happen. On 14th July you'll die and when you do your adopted son will take over! #OMH' BTW We all hate the boots!
@Rubyus Oh my red boots! On the 14th July you are going to die by getting stabbed 23 times and your adopted son will take over! #blood#
@willbeemperor/king I've heard Brutus is plotting to kill you. Please believe me! He may be your friend but he is evil! #oh my Venus#  Aaaaaarrrrrrrgh!

My Roman Day at school – Louise (extract)
Early last Friday morning, History Off the Page came in to do a Key Stage 2 Roman Day on Friday 9th October 2015. Pupils and staff were involved. We went into the hall to Dominus' villa.
As the day began, Guyus (the leader of the day) started to talk about the eye-catching tables. We all had Roman names – mine was Illuminus.
There were at least six tables, but the first table I went to was the beautician, which looked the best. . We each received a little pouch to fill with scents. Ms Wiffen was running the table and she told us lots of gossip!
Next I went to the doctors which was run by Miss Hurrell. There were herbs, garlic, onion and spices, but they all smelt disgusting!
TAP! TAP! TAP! went Guyus' stick and suddenly we all froze. He told us that Bouddicca was near by …
My Roman Day – Mackenzie (extract)
After hearing about the evil Bouddicca, we went to another activity. I went to being a scribe with Senator Hales. We got some rocks and bashed them to make powder. We added some sparkly stone to mix with the powder. Afterwards we poured some water to mix it it up. This was the ink. We had a piece of parchment and a writing tool and we wrote roman numerals from the clock face.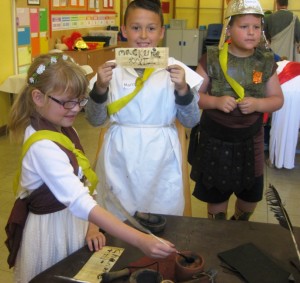 The best part of the day was when I was a Roman Soldier. We fought Boudicca and won because of our excellent training and skills. We celebrated with with a feast of wine and food.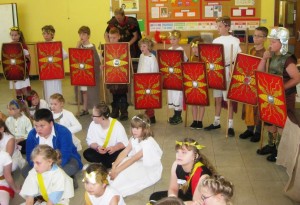 Mrs Martin's English Group
Two Kennings
Kennings – Betsy Bidwell
Soft-purrer,
Pillow-stamper,
Long-sleeper,
Toy-lover,
Fish-lover,
Milk-drinker,
Night-criminal,
Mouse-catcher,
Tree-climber,
Meat-swallower,
Foot-catcher,
Little-criminal,
Cute-pawser,
Comes in all colours,
House-liver,
What is my animal?
(kitten – NOT cat says Betsy!)
Trinny
Fish-eater,
Super-fast swimmer,
Blue-coloured,
Swishy-tail,
Grey-tummied,
Blue-eyed,
Cool-tricker,
Helpful-friend,
Noise-talker,
Smooth grey tummy,
Nice-helper,
Playful-listener,
Saltwater-drinker,
Secret-keeper.
What is my animal?
(dolphin)
Making a paper tower by Cameron
This a 3D Challenge. Some people find it hard and some people find it easy.
You will need:
– newspaper, sellotape, scissors, straws
How to make them:
1. First get into groups of 3 or 4.
2. Get all the things you need.
3. Start rolling the newspaper from the corners.
4. Next, sellotape the legs tightly and don't let go.
5. Make sure it is steady.
6. Get another sheet of newspaper and roll normally and sellotape it on.
7. Add some details if you have any. 
Year 6 Writers' Club
Year 6 really, really want to improve their writing, so we have started the Year 6 Writers' Club.
We have used the 100 Word Challenge – Week #15
'Bin Bicker'
"Oh, just another Irish Day," the Grey Bin expressed depressingly.
"Why are you eating my cardboard? I was going to scoff it up!" sighed the Cardboard Bin reluctantly.
"I'm filled to the ol' naggin anyway!" he mumbled in despair.
The Bottle Bin shouted angrily, "Don't get drunk on my wine!"
"My cans are killing me!" suffered the Can Bin painfully.
"Sssshhhhhhhhhhhhh!" hushed the Grey Bin loudly.
All was not well between the bins … bicker, bicker, bicker!
At the beginning of the Summer Term, we have been writing adventure stories.
Moo and Larry's Adventure by Maisie
Moo and Larry fell in love since the day they met. Larry was two weeks old and lived down the farm. Every time Moo went down the farm, she stumbled through thick and thin mud just to see him. Shining and gleaming, the sun was peeping through the clouds, so Moo thought a walk would be great. She found some rope and tied it round Larry's neck, making sure it was not too tight. Whistling and singing as sheep and lambs do, they walked happily. In the corner of Moo's eye she saw a … HOLE!?! Moo decided to peek her head in the hole. Suddenly Larry bucked Moo up the backside. Rushing and scurrying passed Moo, Larry ran away. Moo decided to give chase. Finally, they reached and came across a farmhouse where they could smell a roast dinner of lamb and mint sauce. "Oh no!", they exclaimed, "we had better turn back immediately!" Moo suggested that Larry should cover his eyes as she didn't want him to be frightened!
We are using the '100 Word Challenge' as our weekly stimulus. Many children from around the world
are presenting their writing on the website http://www.100WC.net Why don't you have a look?
Here are our entries for –
Y6 Writers' Club – #Week 11
This week I lost my Wi-Fi connection at home. I was in a real state which was quite worrying that life can be so dependent on the internet. Anyway, the good thing was that a local coffee shop let me use their connection and I was able to get it all done.
So, I am using that experience for this week's prompt and it is:
…when the connection broke… 
Things to consider:
What / who was being connected to what?
Why would it be a problem if it was broken?
What happened after the connection was broken?
Nooooooooo!! – Ryan H
It happened just at half-time, when the connection broke. I had 5 minutes to exit. The first thing I thought of was to phone BT. I screamed at them like they've committed a murder> The second I thought of was to see if my laptop worked but it didn't. I chucked it through the window. I did try to phone BT again, but they were busy.
Well, then, it popped into my head that I could steal my neighbour's WiFi. For the last two minutes, I tried to crack the code. With just 20 seconds to spare, I cracked the code and I was able to watch the match!
The Lady Next Door – Macy L
The lady next door uses the internet so much that the internet always goes out. Don't get me started about when her grandchildren come over – all they do is go on the internet. But one day their internet went out and I saw the electrician repair it because he is always coming over.
"MY WIFI HAS GONE!"
That's all I heard when the connection broke. They then called 999 – the police were NOT happy. My Mum and I just laughed. Everyone was gobsmacked!
And then the lady next door came round and said, "Can I use your internet, please?"
FBPS – Y6 Writers' Club – #Week 10
This week we have a photograph for you to look at. It is a statue of 3 men talking.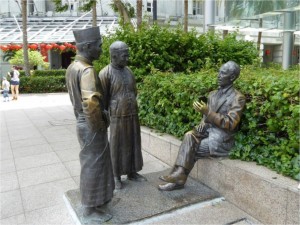 Things to think about before writing:
Look at how they are dressed?
What country might they be in?
What jobs do they do?
What could they be talking about?
Are they happy/worried/concerned?
The Religious Men – Diesel
As I was sitting on the bench, two strangers, dressed in religious clothes, slowly approached me.
"Hello strangers! What do you want?" I whispered.
"Hello! We'd like to talk to you, if that is alright," they replied.
"I guess so," I answered.
"Can we ask you? Do you believe in God?" they asked.
I thought for a moment and said, "I'm not sure if there is a God because how was God created. And also why is there a hell if God forgives everyone?"
The two men looked at each other and weren't sure how to answer my questions. So they quickly turned around and left.
Were they religious men or was there another motive?
100 Word Challenge #Week 9
On March 4th we celebrate World Book Day when schools often let pupils dress up in their favourite book characters. Here on 100 Word Challenge, we want you to write about SUPER HEROES.
'Batman Strikes again' by Colt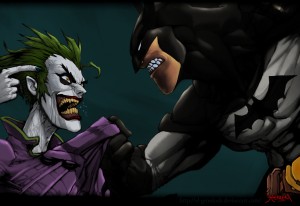 Na, Na, Na, Na, Na, Na … Batman is in Joker's house. Joker remarked, "What the Hell!"
"I've come to stop you from stealing all the money from the bank," shouted Batman.
Joker laughed and laughed, "Ha, ha, ha, ha!"
Suddenly a Batarang (that's like a boomerang!) flies past Joker's head. Joker pulled out his knife throwing it at Batman. He jumped, somersaulting into the air – Batarangs fly everywhere! Joker jumped and dived to avoid them. He managed to grab Batman and pulled him to the ground, punching and kicking him.
Fighting back, Batman pushed a button on his utility belt, wrapping a rope around Joker.
"Hooray! The villain has been caught!"
"A real Superhero – A DEFINITION" by Morgan
Superhero … that word makes you think of characters like Batman and Superman, doesn't it? Well, Naruto Hetalia (a 14 year old, outcast-ed girl) is a superhero in her own way.
Where she lives, there is a district where everything is perfect – utopia, you may say. However, in contrast to that is a barren, isolated land – a dystopia. You may be imagining rich and plentiful lands with beautiful architecture inside of this district. Wrong!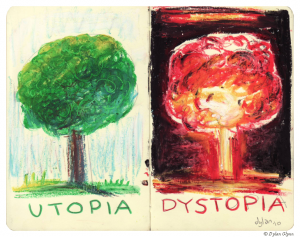 It's actually a depressing, poverty-living place where many craters blanket the muddy floor where grass used to grow, Not only did it take advantage of the ground, but it also took advantage of Naruto's left leg. Despite this, she still helps with the farming and covering all the remains of war. THAT is a real SUPERHERO!
100 Word Challenge #Week 8
We had five words that need to be put in your writing this week. They can be in any order but must all be used. They are:
…Gas,  Dancer,  Green,  Swimming,  Likely…
THE LURKING, CROAKY CROC by Mia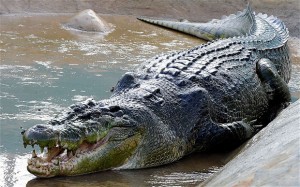 Under the green, gas-smelling water, there appeared to be a cranky-looking, crippled crocodile. I pranced back like a scared cat. I was likely to get gobbled up. The crocodile was swimming in a sophisticated way. I ran as fast as lightening to hide beside a tree.
On reaching safety, I was able to a professional dance show. I was thirsty and went to the crocodile jaw-looking tap that was jutting out of the water.
"I'm hallucinating", I mumbled. There was gas leaking like coke out of the bottle. I fainted.
As I woke up, I saw a small, lizard-like crocodile.
"I don't know why it's here," I thought to myself.
"Ca…N…N…N…Yo…U…B…E…E…My…Be…st…friend?" said a deep, croaky voice.
"Excuse me," I said sarcastically. "Was that you?" I asked.
"YYYYYYYYYYYY…yes!" replied the amphibian.
"People must just freak out when they see you" I explained.
" I know! I'll hide and stay here when you go out!" whimpered the lurking, croaky croc.
"OK!" I murmured. Everyone was happy from that point on.
This week, we decided that we need to work on our writing of direct speech using inverted commas. As our club met on the day of the Chinese New Year, we used this photo as the stimulus –
Chinese New Year by James
"What's your name?" whispered Jeff.
"I can't tell you. It's personal information!" announced Peter.
"Well, I'll just call you Gentleman then. Let's forget about names. Look, Gentleman, there's that red and gold dragon coming, I think!" answered Jeff.
"How many legs do you think are under the dragon?" questioned Peter.
"I don't know, but I should imagine there's about 30 or more," warned Jeff.
"Probably about that many, but they must be very well trained to perform the tricks they are doing," shouted Peter.
"They're very well trained! I'd like to see more of the dragon but that's the end of the show," exclaimed Jeff.
"So would I, but, maybe we can watch it again next year," warned Peter.
"On yes, we can watch again next year because Chinese New Year is every year!" shouted Jeff.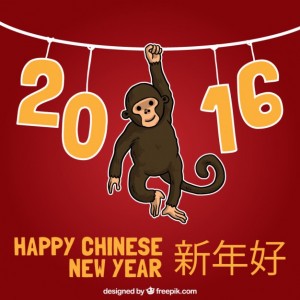 Here is our entry for –
100 Word Challenge #Week 5
This week we have a picture. It was drawn in 1899 by Jean-Marc Cote and is how he would imagine how fireman would work in the year 2000. Thank goodness he was not correct!
Look closely at the action.
Obviously, you can write about anything that the picture says to you but for those who might be stuck, you could write about:
How things are different now
What the woman is feeling
How the fire started
What sort of location is it set in
'Dancing Fire' by Maisie S
I watched the scorching flames and red embers dancing above the lady's head. Some danced, some pranced, but I stood in horror as the aerial firemen risked their lives and limbs. I felt so sorry for the lady and her baby, but I ran to protect my own, little family.
"Pass me the baby! There's no time to lose!" ordered the brave fireman.
The young mum passed the baby to the super-fit aerial fireman.
Night fell and I gazed at the stars – twinkle, twinkle. I was so relieved that my little family were safe and sound.
100 Word Challenge #Week 4
This week we have part of a sentence.
Writers need to think carefully before they start as they will need to know what the story is. The prompt is:
…but later that day…
Questions to ask:
What was happening beforehand?
Was the thing that happened good or bad?
Who was involved?
What happened next?
'The train to hell' by Ryan C
The legend says that a train picks up lost souls and takes them to hell. But, once every ten years, a man gets trapped on the train, never to be seen again.
"Ha!" shouted Jake interrupting. Jake's friends were camping and it was Greg's turn to tell a story. The fire started to die out.
"I'll get more wood. You behave whilst I'm gone," ordered Dan. But, as usual, Jake sneaked off.
Later that day, when everyone knew that Jake had gone, Greg grinned as the train had come.
100 Word Challenge #Week 3
This week we have 5 words. They must all be in the post but can be in any order. Before you start, think about a story that could include all of them sensibly.
The words are:
Red,   Hard,   Mountain,   Floated,   Umbrella,
The Boy who ate SCHOOL DINNERS by Morgan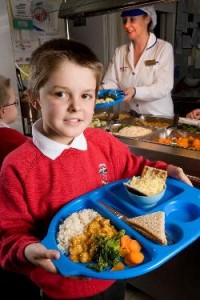 Not a lot of people admire school dinners, especially when Mrs Redhead, the school chef, cooks them. Apparently, there are rumours that the 'meatloaf' once floated into space and never came down. After that incident, everybody at Umbrella Primary School always had a packed lunch!
One day, a boy called Nugget was dared to eat school dinners in a game of 'Spin the Bottle'. So he did! Munching and chewing on the hard, stale substance, he felt so sick that he wanted to jump off a mountain. Suddenly, as Nugget chomped the last bite of the burger, he started to fly!
(Morgan was inspired to write this 100WC after reading 'Ratburger' by David Walliams)